Anyone searching for ways to add pizazz to an otherwise dull living room should invest in an area rug. Such rugs are guaranteed to help make redecorating projects easy and fun. Below are some tips on how to choose the best living room area rug:
Selecting a Shape
To select the ideal rug, homeowners should consider the living room's furnishings and accessories. This will ensure that the rug selected complements the existing décor. For instance, informal living rooms with circular seating arrangements are best enhanced by round rugs. Rectangular rugs work best in living rooms for which the focal point is a long coffee table, book case or entertainment center.
Choosing Patterns and Colors
Consumers should also consider the rug's pattern. The latter can be chosen to enhance the room's existing décor or create a contrast. Alternatively, one can select a highly decorative rug to become the room's focal point.
Colors and patterns are primarily matters of personal taste. However, one can start by determining whether a warm or cool tone is desired. For example, decorators consider orange, gold and red hues warm colors. Such colors are ideal for those who want to create a cozy, inviting ambiance.
Colors such as blue, purple and certain shades of green are regarded as cool. The latter can be both sophisticated or restful, depending on the decorator's personal taste. Tan, white and black are neutral colors. These typically blend well with any interior décor.
Consumers should remember that rugs in solid colors tend to become a focal point in any living room. Solid colored rugs are a good choice if the living room's curtains feature a pattern. This is because solid colors are less apt to clash with other designs in the room. If window treatments feature solid colors, rugs with bold patterns can be used as accent pieces. Striped rugs are a good choice if one's goal is to create the illusion of a wider space .Multicolored rugs are a great option for those who tend to frequently change the living room's color scheme.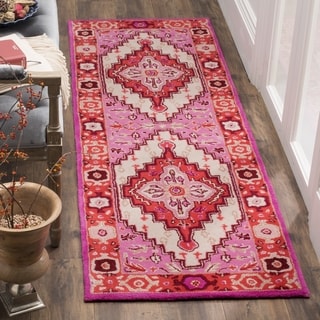 Regarding styles, there is an endless array of options from which to choose. The following are some timeless favorites that homeowners should consider:
Traditional Braided Rugs
If one has decided on a round area rug, classic braided rugs are a nice choice. Such rugs blend well with traditional, country, and rustic décor. Both durable and attractive, rugs of this kind are usually available for a reasonable price.
Oriental Style Rugs
A very attractive option for any living room is an oriental style rug. Not surprisingly, rugs of this type never go out of style. They can now be found in various fabrics as well, and often feature interesting knotting techniques. In some cases, the value of the rug depends on how many knots it has per square inch. These rugs look particularly beautiful in living rooms and can be found in a broad range of color schemes.
Animal Print Rugs
Animal prints are a great option for living rooms featuring modern, abstract or traditional décor. A giraffe, leopard or zebra patterned rug instantly adds pizzazz to essentially any room. Such rugs can be used with striking red or bold blue accessories to immediately transform a dull room.
There is a wide variety of area rugs available on today's market. Customers can order new rugs online or visit traditional furniture or carpet stores. Regardless of the venue one chooses, however, comparison shopping is always in his or her best interest. With a little time and effort, the perfect living room area rug can be found to suit almost any budget or lifestyle.